Last year we partnered with the talented Cory Christopher on some home décor for fall. We're revisiting these posts this season, as this décor never goes out of style.

The chill in the air, the warm afternoon sun and the changing colours of the season surround us – autumn is here!

Even though Mother Nature has brought winter knocking on our door a little early this year, fall is still in full swing and it isn't too late to decorate your front entrance for the season. Remember that last walk you took in the fall in your favourite Edmonton neighbourhood? Or the delight you felt seeing a front porch that celebrated the harvest season? I will show you how to add a little fall flair to your own entrance without it being time consuming or costly.

Follow my simple steps to welcome guests to your home this fall: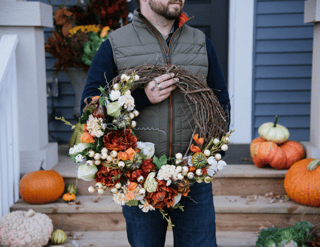 Adorn your door
Dressing up for the season is a must and your door deserves the same treatment! Popping a wreath on your door is a quick and easy way to
add a splash of beauty to your entry. Instantly your door will be transformed with the colours and textures of fall.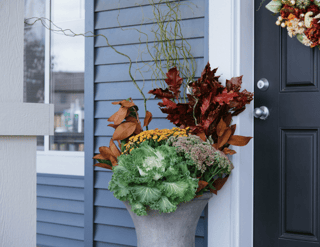 Planters for All Seasons
Consider incorporating seasonal elements such as pumpkins, twigsand, of course, plants that will tolerate a little nip from Jack Frost. Choose hardy plants such as mums, sedums and ornamental cabbage that will weather the changing season while bringing new life to your planters.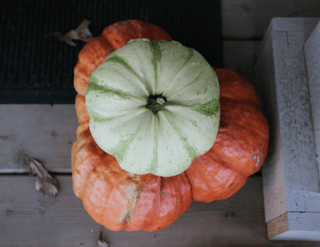 Pumpkins and gourds – oh, my!
Create your very own pumpkin patch on your front steps. Hunt for unusual varieties in colours and shapes that will create a patch full of texture and surprise.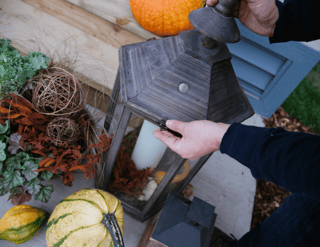 Add Lighting with Lanterns
Consider including a couple of lanterns to complete your harvestvignette. Add a few handfuls of foliage, pine cones or small gourds inside and a flameless LED pillar candle to finish the look!






If you follow these simple steps, you can take your front entry from this…





Best wishes for a happy harvest season from all of us at Brookfield Residential and Cory Christopher!

Cory Christopher is a designer, entrepreneur, community supporter, philanthropist, and the creative mind behind the namesake flagship store and studio located in Edmonton.

This feature was shot at the Bellevue show home in Chappelle Gardens, Edmonton.